Looking for gifts for your officer this year? These tactical stocking stuffers will definitely make your officer feel merry this Christmas!
The holidays are here again! Are you ready?
Personally… I'm not, so much! It's what, two weeks until Christmas? And I still have to figure out gifts for both my husband and my son. Oops.
I'm usually way more on top of things, but I think I get a break since I'm currently in my third trimester (yay!). My mind is just full of all kinds of stuff to do, so I think it's understandable other things get pushed aside now and then 😉
Anyway, if you're in the same boat as I am, here's a list of 12 awesome tactical stocking stuffers your officer is sure to go crazy for this year.
12 Tactical Stocking Stuffers That Will Make Your Officer's Christmas
Batman Spring-Assisted Folding Knife
Okay, to be totally honest, it seems like this Batman folding knife isn't exactly the most functional (based on the majority of its reviews)… but look how cool it is! Even I kind of want one, just for fun.
Plus, it's an inexpensive way to add a little fun to his tactical gear, even if it's really just for showing off to his friends.
If your husband is into Batman, he'll definitely appreciate finding this in his stocking on Christmas morning.
You can get it here: Batman Dual-Tip Spring Assisted Folding Knife
Tactical Credit Card Wallet Tool
This tactical wallet tool is kind of amazing. In one credit-card sized tool, you'll find 12 survival tools, including a knife, a blade sharpener, a compass, a ruler, a magnifying glass, and tweezers.
It also comes gift-packaged with a paracord and a survival whistle.
At around $10, this is a seriously practical and affordable option to put in your officer's stocking this Christmas!
You can get it here: Tactical Credit Card Wallet Tool
Thin Blue Line Holster
I just love this thin blue line Kydex and leather holster. It's both a practical and sentimental gift that any law enforcement officer would love to receive!
It's an inside-the-waistband style holster, and even though the above link will take you to the one designed for a Glock 43, if you scroll down you'll see they have it for pretty much any gun you might need it for.
It's also made in the USA and has a one-year replacement warranty.
You can get it here: Kydex IWB Thin Blue Line Holster
Rugged Tactical Gloves
These tactical gloves are
awesome! Well-made with a reinforced palm and double stitching, it'll stand up to the most heavy-duty use.
Even though they're super durable and offer great protection for your officer's hands, they're also snug-fitting and allow for freedom of movement in the fingers – so they won't be a hinderance if your husband has to use his weapon.
Plus, they're just nice and warm for this cold weather!
You can get them here: FREETOO Tactical Gloves
Celtic Pocket Knife
I just love this Celtic pocket knife. Seriously, look how pretty it is, especially with the (real leather!) sheath. Even if you never carried it/used it and just had it around as a "trinket", it's one I'd love to see around.
And it never hurts to give your officer another option for a knife to carry, am I right?
The other fun thing about this gift for your officer, beyond its practicality, is the fun nod to the origins of law enforcement in America.
You can get it here: Hand-Forged Celtic Pocket Knife
Fully-Loaded Tactical Pen
Before I met my husband, I literally had no idea that there was such a thing as a tactical pen. Even the first time he told me about them, I was pretty confused.
Tactical… pen? Does it shoot?
In any case, I've learned to appreciate how he wants everything he carries to be super useful, and if we're ever in an emergency, I'm sure I'll appreciate it that much more.
This tactical pen in particular is really, really cool. It contains all sorts of tools, like a flashlight, a bottle opener, and a window breaker – and, of course, is just a super sturdy pen that won't break in your officer's pocket if he's in a scuffle.
It also comes gift boxed with extra ink and batteries, so you don't have to worry about it running out right away. And the gift box is nice, because you don't have to worry about finding a way to wrap it nicely yourself. Put a ribbon on the box and you're good to go!
You can get it here: Takeflight Tactical Pen
Survival Paracord Bracelet
This survival paracord bracelet is so much more than your average survival bracelet. Not only does it have your typical length of paracord, but it also contains a fire starter, a whistle, a scraper, and a compass.
The biggest benefit of this bracelet is that you don't have to remember to pack it in a bag when you go out. You just put it on your wrist and you're good to go! No worrying about somehow getting separated from your survival kit when it's not attached to you.
Also, for the price, it makes a seriously great stocking stuffer!
You can get it here: Survival Paracord Bracelet
iTarget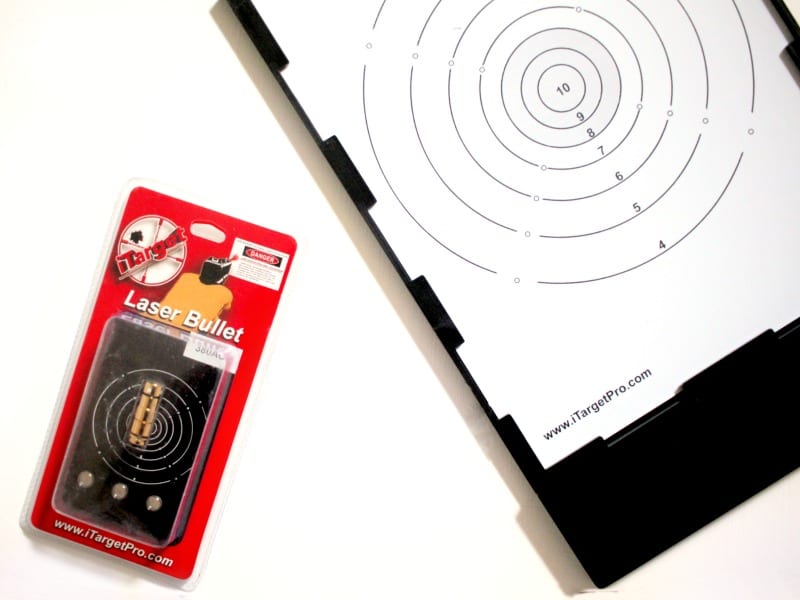 Now, this is really cool – the iTarget is a way to practice shooting without ever leaving home. It uses an app on your phone, a target/sled system, and a laser bullet you can put in your gun and dry fire. The app tests your accuracy so you know what you need to work on.
It's a great way to help keep your officer's skills sharp without him having to leave for the shooting range on his days off!
Arguably, this might not fit in his stocking, but at least the laser bullet part of it would 😉 And it's just so worth it – his tactical skills are super important to helping him get home safely at night.
You can read the full review of the iTarget I wrote here: The Best Way To Practice Shooting At Home, or you can go straight to the iTarget website 🙂
T.A.P.S.: Tactical Application of Practical Shooting by Patrick McNamara
T.A.P.S. is full of Patrick McNamara's best tips and tricks to improve marksmanship – but if you think that means it's only about how to point and shoot the actual gun, you'd be wrong. He goes over thought process and safety, too, which makes it a really excellent resource for any law enforcement officer!
It's highly-rated on Amazon, which completely makes sense, because McNamara has extensive experience with marksmanship and training all kinds of people, from civilians to Special Forces. He's definitely been there, done that, and your husband can benefit from his expertise.
You can get it here: T.A.P.S.: Tactical Application of Practical Shooting by Patrick McNamara
13-In-One Survival Kit
This 13-in-1 survival kit is kind of amazing. Not only is it packed full of pretty much everything you'd need in a survival situation, it also has awesome reviews on Amazon – 4.5 stars average over 150+ reviews!
The kit contains a knife, a flashlight, an emergency saw, a compass, a flint stone, a multi-tool, and a bunch of other tactical essentials in a waterproof box for safekeeping.
It's easy enough to toss in a go bag, keep in the car, or put in camping/hiking gear if your officer is an all-around outdoorsy guy.
And for the price, it's totally worth having all these tools in one place! Even if he has other flashlights/knives/etc, having all the things he'd need in an emergency in one easy-to-carry kit is invaluable.
You can get it here: 13-in-1 Outdoor Emergency Survival Kit
Cell Phone Utility Pouch
This cell phone utility pouch not only has lots of pockets for survival tools, but is also great for the accident-prone officer.
Seriously, my husband goes through even LifeProof cases like you wouldn't believe – and he's currently a civilian. Imagine how much worse it gets if he's actually on the job!
Anyway, this utility pouch has all kinds of pockets for any tactical tools your husband could possibly need. There's a place to put a pen, a flashlight, or other small tools (maybe some of the ones on this list, even!)
You can get it here: Zeato Tactical Utility Pouch
Pre-Filled Tactical Stocking
If you're in search of an awesome gift for your police officer this year and really don't have a lot of time/energy/inclination to pick and choose one thing at a time, this pre-filled tactical stocking is definitely the way to go.
It includes all sorts of useful survival tools, like a waterproof box that stores things like a compass, a small tactical flashlight, a flint rod, fishing hooks, a pocket saw, a survival blanket – and a bunch of other things, some of which I'm not totally sure how you'd use… like paperclips?
But if your husband is anything like mine, he probably has some sort of secret use for them in a survival situation.
Plus it has things like a "survival scarf" and glow-in-the-dark paracord (which my son would steal so fast.)
And, of course, you can re-use the stocking itself year after year, which is kin of awesome.
In any case, if you're in search of a ready-made gift solution for your officer, this is definitely the perfect option for you.
You can get it here: gearriffic Tactical Christmas Stocking Pre-Filled
Honestly, there are so many awesome options for tactical stocking stuffers. Choosing pretty much any one of these will guarantee a happy LEO come Christmas morning! (Or evening, or afternoon – whatever the case may be :))