Concerned about keeping your family safe? OfficerPrivacy is the best service to remove personal information from internet searches.
This post is sponsored by OfficerPrivacy. All opinions are my own.
One of the most life-changing lessons I learned in college happened during my Psychology of Family Violence class.
The subject was cyber stalking, and the assignment was easy: Google yourself and see what you can find.
Let me tell you: what I was able to find out about myself was deeply disturbing.
Just with a quick Google search of my full name, I was able to find previous addresses I'd lived at, my current address, current and previous phone numbers, information about my parents and siblings, and even some brief employment information.
On top of that, having that information opened up a whole trove of information in other places. Like, if you knew my previous home address, you could potentially locate the floorplan of that house.
Plus, there were many websites that offered to give even more information if I paid a small sum for it.
Worst of all, when the class understandably asked the question, "How is this legal?", we were informed that all that information is a matter of public record. Companies like WhitePages and CheckPeople just help make it easier for people to access.
I've never before wanted so badly to live off the grid until that day, because I realized that in an online world, information is extraordinarily accessible – and I believed there was nothing you could do about it.
Of course, living off the grid isn't really feasible (not the least because I don't hunt, I hate bugs, and I really like the internet most of the time). So because I didn't know any options for keeping all that information safe, I resigned myself to tuck my newfound paranoia in the back of my mind and try not to think about it.
Of course, this fear has found itself thrust back into the front of my mind with all the backlash against police officers we see now. You've probably thought about it, too – or maybe you've had this information used against you personally.
I've heard from many a reader how they've been harassed, had their tires slashed, been followed, had their houses egged, and all sorts of other terrible things. It's terrifying.
The idea that people can find your information is scary enough. It's only worse when there are people who desperately want to do so and use it against you.
I know that safety is at the forefront of your mind more than ever – and that's why I recommend you look into OfficerPrivacy.
OfficerPrivacy Is The Best Service To Remove Personal Information From Internet Searches
Your information is accessible to anyone with an internet connection.
Think about everyone who has an internet connection. Think about who exactly that includes.
Those in anti-cop hate groups your officer may have dealt with? They have an internet connection.
Sovereign citizens who may bear a grudge against your officer? They have access to the Internet.
Someone who has developed an unhealthy crush on your husband and becomes obsessed? Internet.
Someone who's just bored and curious, with nothing better to do than find information on officers and doxx them? Yep, internet.
By knowing some of the most basic information about your officer, any of these people (and others) can find personal information about your officer, you, and your family – way more than you would ever want to share with them.
Your information can be removed from internet searches.
Now that I've given you an anxiety attack, take a deep breath – because there is something you can do about it.
While these websites that catalog personal information do run legally, each and every one has a way to opt out. You don't have to be a part of their websites – yay!
The problem is, though, there are 30+ of these websites operating, of which you'll probably appear on 15-20. Each one has their own opt-out process, so the whole process adds up to a lot of time you have to spend – time you probably don't have.
You also have to keep track of which ones you've opted out of and make sure they've actually removed your information.
Oh, and after 2-3 months, these sites can add you back to their listings.
Whomp-whomp.
That's where OfficerPrivacy really shines.
OfficerPrivacy makes the whole process much easier.
Pete James, the owner of OfficerPrivacy, had a similar experience to mine through his work in computer forensics.
When he learned how accessible his information was to anyone online, he set about removing himself from all those people-search sites. The whole process took six hours.
And that's for someone who lives and breathes computers – so I don't know about you, but I'd guess for me, I'd be at it for a full day or more and probably end up dissolving into a puddle on the floor.
That's not including, of course, the time he had to spend making sure those sites removed the information as promised and updating his opt-outs as necessary.
That is a lot of time to spend – and that's exactly what inspired him to create OfficerPrivacy.
He knew other officers would want to protect themselves and their family, too, but they wouldn't have the time or knowhow to really make the laborious process feasible.
Long story short, he found a computer programmer to automate the process, and now makes it available to you and your officer to help you protect your information, too.
Why Is OfficerPrivacy The Best Service To Remove Personal Information From Internet Searches?
It's easy.
Rather than spending hours and hours, pulling your hair out trying to make sure you find every people search site, correctly opt-out, check in, and keep your information off those sites, you can use OfficerPrivacy to remove your information in about 1-3 hours – less if you're more computer-savvy, more if you're not.
I personally took about 2 hours, for the record.
Regardless, once you've gone through that initial process, you can spend about an hour a month checking to make sure your information is still off those sites.
Easy-peasy.
If you really want a hands-off way to protect your privacy, you would love their premium subscription, which maintains your opt-out status on all the people search sites without you even having to think about it (read more about that below).
As far as ease of use, there's really nothing better available.
It's affordable.
The basic subscription cost is $9.99 per month, which starts with a 14-day free trial. With the basic subscription, you can remove and track removals from all the people search sites for everyone in your household with just the one monthly cost.
That being said, if you want the premium subscription where you don't have to do the removals and maintenance yourself, it's $199 upfront for the initial removal, then $19.99 per month for them to make sure you stay off those sites, with a 25% discount for additional people in your household. The discount applies to both the upfront removal and the monthly cost.
If you have kids, this might make you a little anxious about the cost – but remember, the people search sites usually only have records of adults, not children. It might be worth it just to cover yourself and your husband with the premium if you don't have the time or inclination to do it yourself.
Regardless of which you choose, It's worth every penny when you consider what kinds of dangers OfficerPrivacy is helping you stay safe from.
It's safe.
While it can be scary to share your data with anyone freely when you know how accessible it is to nefarious people out there, you can take comfort knowing OfficerPrivacy will keep the information they need to remove you from people search sites super safe.
The founder retired after 25 years in law enforcement, the last few years of which were spent in computer forensics, so he's very aware of the need for security.
With that in mind, only active or retired law enforcement employees see your information, and all data is compartmentalized.
They also only take the data they need, nothing more, and keep that data encrypted, password protected, behind two-factor authentications, and I hear they even need the blood of a virgin to access the most sensitive information they keep.
Joking.
But really, they take your privacy super, duper seriously and will never sell, rent, lease, or anything your information.
You have nothing to lose.
To start with, OfficerPrivacy has a 14-day free trial. That means you can try it out and do the initial opt-outs for each of these websites completely for free before you decide whether to subscribe or not.
Also, if you're unhappy with the program for any reason, they have a money-back guarantee and you can cancel at any time.
Seriously – you have nothing to lose just to try it, but can gain a whole lot of peace of mind.
What Are The Limitations Of OfficerPrivacy?
It can't erase you from the internet.
Look, no matter what, you can't become completely invisible online, unless you literally go off-grid, pay cash for everything, only make money in cash, and so on and so forth.
It's just not really possible (at least for most of us – but if this is your dream life, by all means, go for it.
No program can totally erase your information from being able to be found online. If people are really invested in finding you, they will be able to. But that doesn't mean you have to make it easier for them.
It can't change your personal habits.
If you are in the habit of sharing too much information online, this program can't fix that for you.
You get to choose what you share online. Only you can stop yourself from giving too much out there that can be used against you.
Unsure how to keep yourself safe on social media? Check out Pete James's free eBook to help guide you.
How Do I Get Started With OfficerPrivacy?
Sign up for your free trial.
Go to the OfficerPrivacy website and sign up for your 14-day free trial, and follow the instructions to get your information removed from people search sites as soon as possible.
After all, the sooner you start, the sooner your information is protected!
You can learn more about OfficerPrivacy, or sign up for Pete James's free eBook,15 Rarely Used Privacy Tricks You'll Want To Do Today.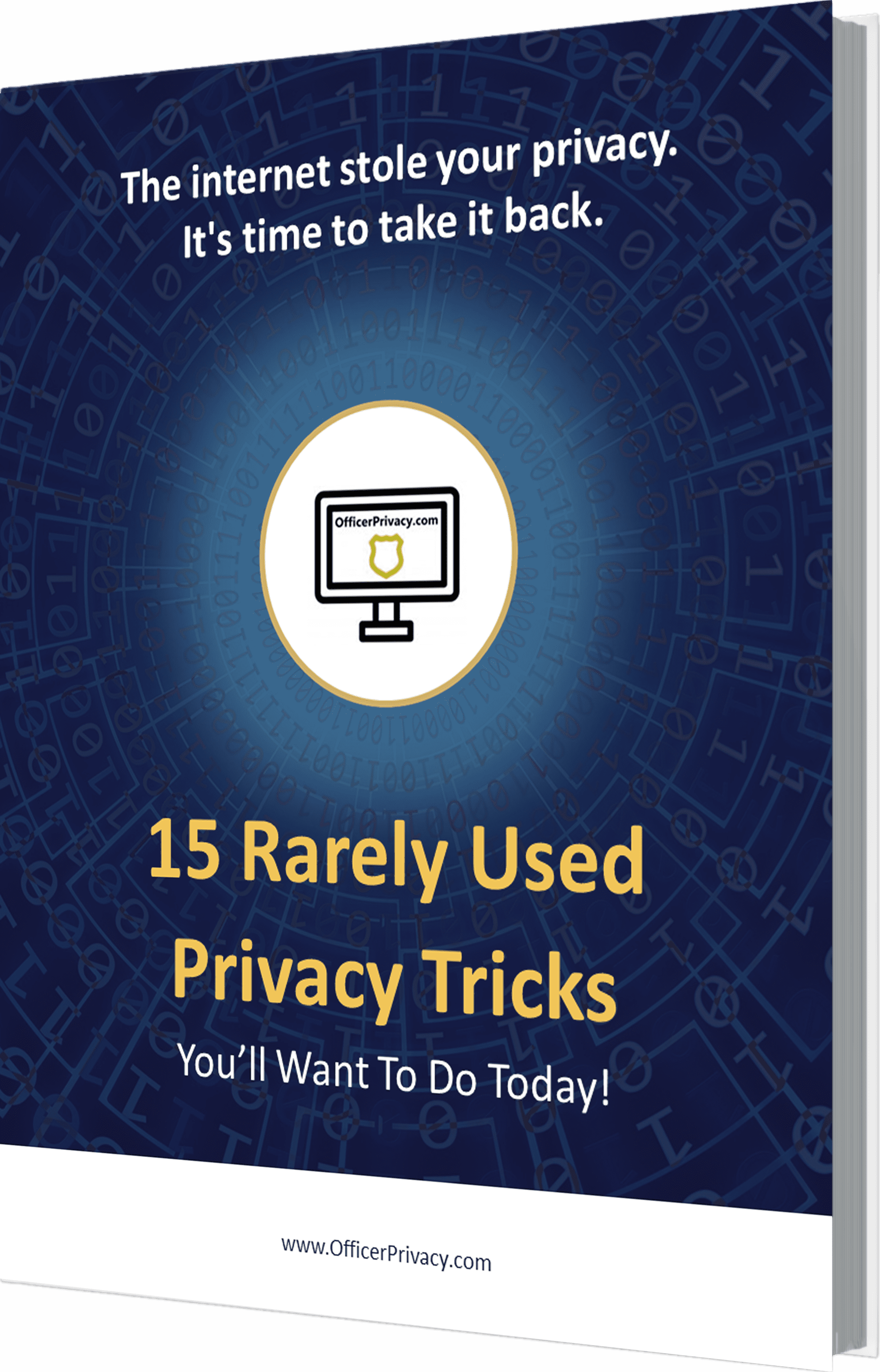 RELATED POSTS