Here's the perfect free basic police badge template for all your craft ideas – plus a few more ideas if you're in need of them!
If you're a police wife and have any sort of inclination for DIY stuff, you've probably found yourself in need of a police badge template.
I mean, it's a simple, recognizable shape that's a must-have for a custom police appreciation gift or DIY police decor.
Or maybe you've seen my thin blue line string art post and want a badge version of it (I don't blame you – I think that sounds awesome!)
In any case, you don't have to look any further. There are lots of people out there who've created the perfect templates for this. So whatever style of badge you're looking for for your project, you'll find it on this list!
Where To Find The Perfect Police Badge Template For Any Project
Early Childhood Fun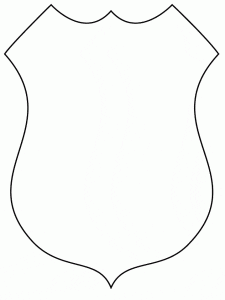 You can find a full-sized printable version of this basic police badge on their community helper themed activities for preschoolers, along with lots of cute activity ideas and a coloring sheet.
Print Color Fun
These police badge templates from Print Color Fun are a little "squatter" than the one from Early Childhood Fun, and they print out 9 to a page – which makes it perfect for bulk projects with kids.
They could easily be printed on some Shrinky Dink paper and colored to make super cute police week gifts. They'd be great for a class project or just a family activity!
Colorir.best

If you're married to a deputy, you might be more into these star-shaped sheriff style police badge templates. They have them as shown with six to a page, as well as a full-page version, if you need a bigger one.
It's a great resource to bookmark for a rainy day, because they also have tons of coloring pages available for free! It's a great way to keep the kids busy while you take a few minutes to decompress.
Craft Ideas for Police Badge Templates
Okay, you probably have a craft idea in mind for this already, but just in case you don't, I wanted to give you a few ideas to get started:
String art.
As mentioned, a police badge string art would make a great addition to your home decor as a police wife! I personally love the idea of adding a heart to the middle of the police badge template and threading in a sunburst design, like this:
Now, I found that image on Pinterest with no attribution – darn it. But it's exactly what I was thinking!
Make play badges for kids.
I love the idea of wrapping the badges in foil to make them shiny (just like a real one!) and letting kids decorate their own badge to play cops and robbers with. You could even make your own set of play handcuffs to go with!
Help kids write a letter on them.
Especially on the full-sized pages, you could help your kids write a letter to your officer or to express gratitude for your local department.
Kids who can't write yet could always draw a picture to go with a note written by someone else!
Use for police-themed party favors.
Don't get me wrong, I love candy. I know kids love candy.
But these would make great party favors for kids to color themselves and bring home after a police-themed birthday party!
Perler beads.
They're not the perfect perler bead template, but you could totally lay a clear pegboard on top of the police badge template and align the beads to it!
Either do it all gray, in a thin blue line pattern, or get creative making a Mario or even Minecraft-themed perler bead police badge, depending on what your officer/family is into!
Whatever you're planning to do with your police badge template, I know you're going to find what you need here.
By the way… I would love to see whatever you end up doing! Feel free to leave a comment below and let me know what you do with them 🙂 Or email me at leah@loveandbluesblog.com and I would be happy to feature your project on this post!
Can't wait to hear from you 🙂
RELATED POSTS