Looking for inspiration for celebrating National Police Week? Here are lots of fun ideas for the whole family to back the blue!
As you may or may not be aware, next week is National Police Week.
If you are aware, yay! I'm glad you're here for inspiration on how to celebrate.
If you're not, you might be wondering: What is National Police Week?
In short, it was started by President Kennedy in 1962. He marked May 15th each year as National Peace Officer Memorial Day. National Police Week is the full calendar week in which May 15th falls.
It's all about honoring officers who have fallen in the line of duty and helping support and encourage active law enforcement officers.
So, if you're a law enforcement wife, needless to say, it's a pretty important week!
And even if you're just a more casual law enforcement supporter, it's still a great opportunity to give back to those who give so much to the community each and every day.
But you might be wondering…. what are some ways to celebrate police week?
Well, if you're asking that question, you're in the right place – because I've compiled the best national police week ideas here on this post!
Fun Ways To Celebrate National Police Week This Year
Participate in virtual/in-person events.
The National Law Enforcement Officers Memorial Fund, the Fraternal Order of Police, and Concerns of Police Survivors (C.O.P.S.) all organize services and conferences to support law enforcement officers, current and former.
These services include things like candlelight vigils to remember officers who have fallen in the line of duty and other important commemorations of the sacrifices of law enforcement.
If you are in the area or are in a position to travel to the area for these events, I've heard they are amazing! I have never personally had the opportunity to go (since we live on the opposite side of the United States, basically), but I hope to someday.
Naturally, for 2021, these events will be a little different than in years past, but you can learn all about where and when these events will take place on the official National Law Enforcement Officers Memorial Fund website.
Visit your local police museum.
Even if you're not close to the "main events" for national police week, did you know there are police museums all around the country?
You can find a list of police museums in the United States assembled by the International Police Association. This list is organized by state, so it's easy to find one close to you.
Find the nearest one and plan to visit with your hubby – or bring the whole family and show the kids some cool police memorabilia!
Note that it's an especially good opportunity if you're a homeschooling family – lots of good stuff to be learned.
Some of these museums are super fun and interactive. For instance, the police museum in DC has a police training simulator to help you get a feel for what it's really like to be on the job.
Not sure what to expect at your local police museum? Give them a call! They might even have special events planned in your area that you can attend (or even help out with!)
Make National Police week themed treats
There's no point in celebrating, really, if you don't get to enjoy some sweet treats while you do (at least in my opinion, but maybe that's just my sweet tooth talking.)
Fortunately, there are lots of thin blue line themed treats you can make and enjoy!
Here are some fun and simple treat ideas:
Please note: If you feel up to making tons and taking them to a local department, make sure you ask if they accept homemade treats first!
If you're well-affiliated with them (i.e. you have a husband/son/daughter/etc in the force), this is less of a risk, but still – better to be safe than sorry!
Even if they won't accept them, there are other ways to say thank you that aren't food related further down in this post, and you can enjoy all the treats with your family and friends.
Make Police Week themed crafts.
My kids love doing crafts (though usually, they just enjoy making a mess – ha!) but there are lots of fun ideas around the internet for both crafts you can make and display in your home, and crafts that are more suitable for kids.
If you and/or your kids are more into free-form type crafts, you can always paint or draw a picture, or make something to bring to your local department. It's a lot less risky than bringing food and still means a lot!
Wear thin blue line gear.
There are lots of places on the internet to find thin blue line clothing or even thin blue line jewelry to wear during police week – and all the time to show your support for law enforcement.
Here are some of my most popular posts to help you find thin blue line gear for national police week:
You could even get creative and do something like paint your nails in thin blue line style – there's lots of inspiration on Pinterest! (and while you're there, be sure to follow Love and Blues!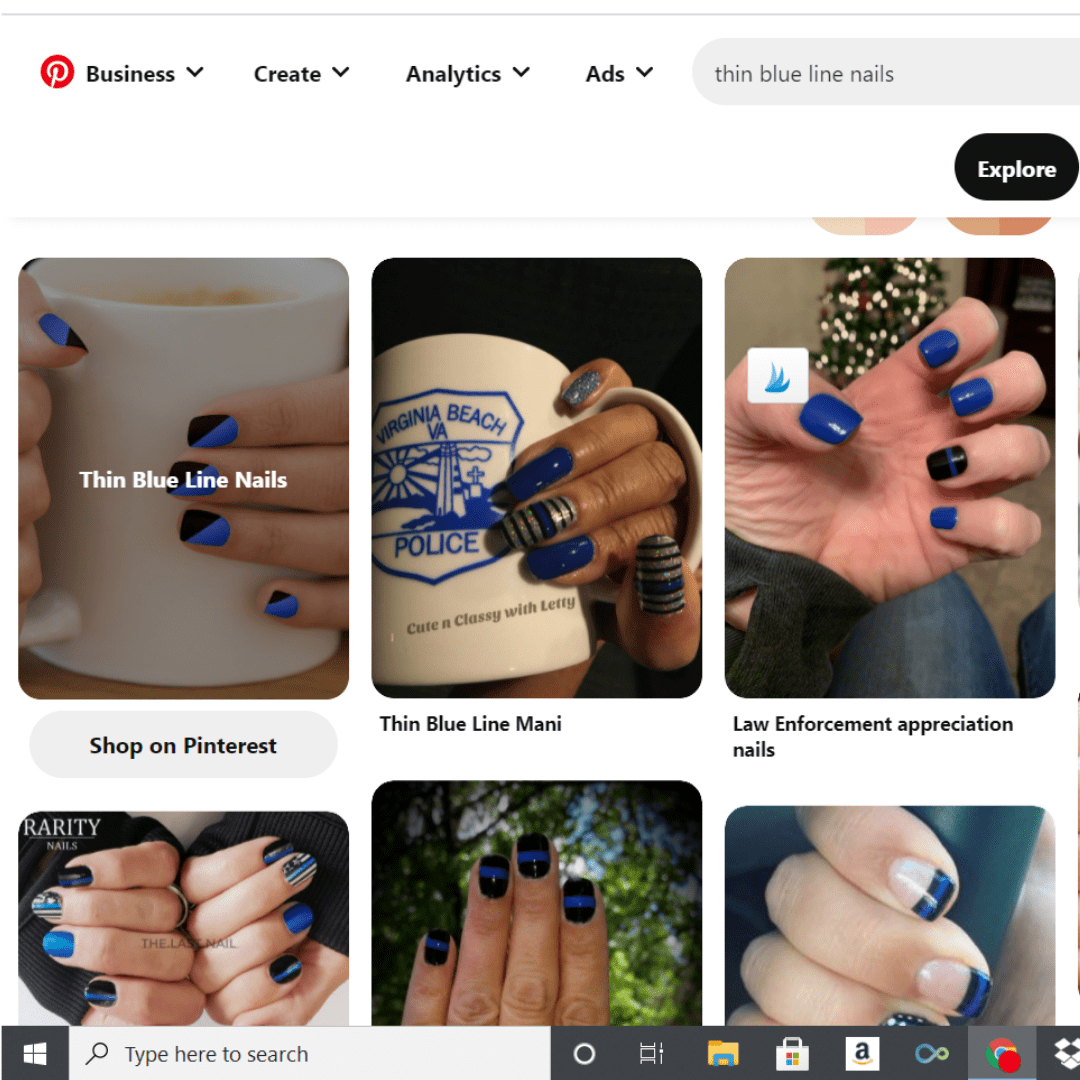 Raise money for police charities.
Whether you donate your own money or do something creative like a bake sale, lemonade stand, or garage sale, donating money to police charities whose causes you believe in is a great way to celebrate national police week.
After all, they are more familiar with what officers and police families around the country are in need of – which means you can make your money go a lot further!
Interested in finding a list of police charities that are worth donating to? Here's a complete list of great police charities to support.
Say thank you to your local police department.
Whether you write a note, send a card, have your kids write letters or draw pictures, make goody bags, or whatever you choose, it means a lot to local officers to know their community has their back.
Here are some ideas to help you get started:
Again, you may want to check on your local department's policy with gifts/food just to be safe, but these can be fun to assemble for kids and a great way to say thank you!
Pray for all police officers and their families.
Even if this upcoming week is going to be really busy for you and you don't have a lot of time/money/etc to spend supporting officers during police week, prayer is always an option.
After all, you can do it anytime, anywhere – and it's free! But so powerful.
Here are some ideas for prayers you can say for officers this week:
Of course, there's no need to limit yourself to these – but if you're not sure where to start, they're great jumping-off points.
Make police week special for your officer.
After all, if you're a police wife, your officer is likely your favorite officer – why not make this week even more special for him?
You might also consider a small gift or two for your husband, like the ones in this post about tactical stocking stuffers (not only good for Christmas!) or a sentimental law enforcement challenge coin.
No matter how you choose to celebrate national police week, it's awesome to do so! Especially during this tough political climate for police officers and those who back the blue, saying thank you is more powerful (and needed) than ever.