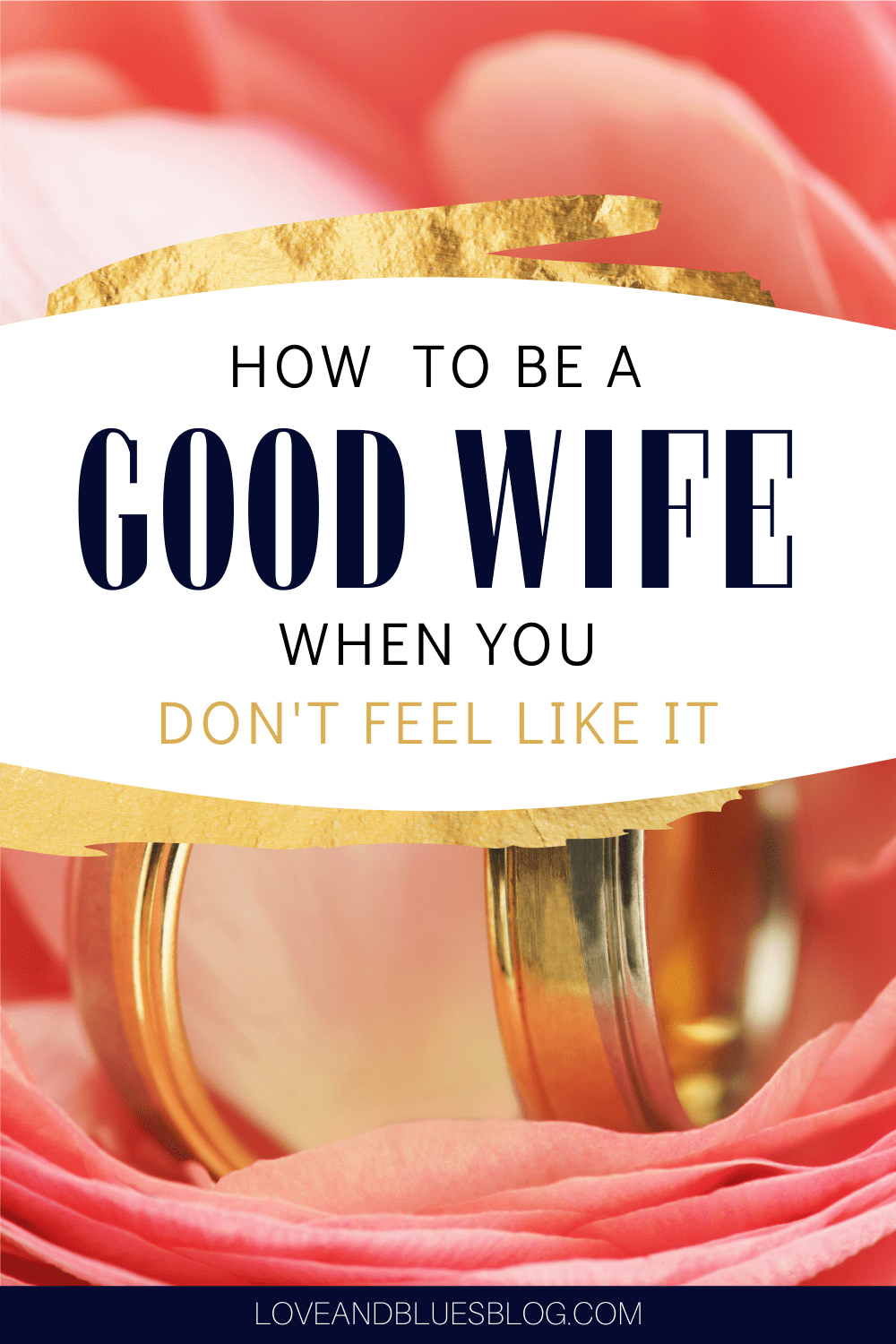 Spoiler alert: if you are asking how to be a good wife, you are probably doing a whole lot better than you think you are.
Have you ever seen those old newspaper clippings from like the 1920s that talk about how to be a good wife?
You know, the things like: always be dressed up, don't complain about your day, stuff like that (here's a whole article about bad retro marriage advice if you're in the mood to read it!)
Thank goodness we consider those things outdated, because I would 100% fail at them.
But that being said, even what it takes day-to-day to feel like you're being a "good wife" to your husband can be exhausting.
Especially when your hubby isn't functioning at 100% either: whether he's feeling depressed, acting grumpy, or you're both just struggling with various aspects of life.
When that happens, it can be hard to know how to be a good wife… and maybe, at times, why you should even care about doing so – especially when you feel like he's not holding up his end of the deal, either.
You really want to be a good wife, I know – but I also know that sometimes, you just don't feel like it.
I'm here to tell you: that's okay.
Whether it's because you're tired or your husband has been a jerk lately, or everything just feels hard and you're in survival mode, you can get through this period.
Better yet, you can get through it with both you and your marriage becoming stronger.
Even though it can be tough, here are some tips on how to be a good wife – even when you don't feel like it.
How To Be A Good Wife When You Really, Really Don't Feel Like It
Consider what's getting in your way.
Are you feeling stressed out at home or at work?
Do you need more help than you're currently getting – especially if you're doing a lot of solo parenting lately?
Is there something your husband is doing (or not doing) that's making you feel unappreciated?
Are you getting stuck in the trap of comparison or spending too much time following depressing headlines in the news?
Are you pregnant and hormonal and just want to sleep all day, and anyone who gets in the way of that annoys you deeply… especially the person you're married to? (Personal example here for sure!)
Whatever is bugging you, get to the root of what's getting you down and address it specifically.
Sometimes, just acknowledging what is specifically getting you down can make you feel a little better; kind of like getting a diagnosis after a long time dealing with an illness.
It just feels better to know what you're dealing with versus the symptoms that come from it.
Take care of yourself – and give yourself a break.
Once you've figured out what's getting you down, go into problem-solving mode.
Figure out what you need, whether that is an unrealistic expectation you need to change in your own mind, something you specifically need to ask for (whether from your husband or from your support system), a to-do list task you need to check off, a commitment you've made that you need to back off of a little, or just more down time than you've been spending/.
Taking care of yourself here also includes giving yourself a break.
When you find yourself feeling burned out, you may find you're putting too much pressure on yourself to do everything – and maybe you don't need to do everything.
Maybe you can help your kids be more self-sufficient by getting them used to being responsible for their own daily tasks (think choosing clothes, packing lunches, making sure homework is done, etc) instead of hovering for fear they'll fail.
The truth is, they might – but they'll learn, just like you did.
Maybe you can tell your husband he needs to be responsible for ironing his own uniform because it's making you crazy to do so.
Say it as diplomatically as you need to – but if this is a chore that's really getting you down, you don't have to do it.
I mean, you can't shirk all chores when it comes to your husband and kids (just as they can't shirk all theirs), but it doesn't mean you can't offload the unnecessary ones to them.
Maybe you can politely decline another church assignment when you feel your plate is becoming too full.
Are you worried you'll be judged for it? The truth is, you might be – but does it really matter what they think? I don't think so, not if you're doing your best and getting your own house in order.
Maybe when the idea of making dinner makes you feel like you're going to snap, you order some pizza and call it a day.
Is it the healthiest choice? No, but sometimes mental health has to come first.
Plus, you can use the extra time to do some "disaster preparedness" to avoid the feeling in the future – once you're feeling better, that is.
Maybe you just feel super anxious and overwhelmed and need to go for a good run to get your head right.
Whatever it is you need to do to take care of yourself, do it!
While it might seem counter-intuitive, one secret for how to be a good wife is making sure you're fulfilling your own emotional needs and not just trying to take care of others. Ignoring your own needs is a good recipe for burnout – and one you can definitely avoid.
Remember the real purpose of marriage.
Sometimes, our personal judgments that we're not "enough" for our marriage are completely off the mark because we forget what marriage is supposed to be about.
Marriage isn't about being the perfect wife. A good marriage isn't wholly dependent on how good a wife you are, because it's not all about you.
Marriage isn't about making you happy or making your husband happy.
It's a lot deeper than that.
I love this quote from Tim Keller in his book, The Meaning Of Marriage:
"When over the years someone has seen you at your worst, and knows you with all your strengths and flaws, yet commits him- or herself to you wholly, it is a consummate experience. To be loved but not known is comforting but superficial. To be known and not loved is our greatest fear. But to be fully known and truly loved is, well, a lot like being loved by God. It is what we need more than anything. It liberates us from pretense, humbles us out of our self-righteousness, and fortifies us for any difficulty life can throw at us."
P.S. You can pick up a copy of this amazing book here: The Meaning of Marriage by Tim Keller.
It can be comforting to remember that marriage is about a whole lot more than being "good enough".
It's about having a teammate with whom to celebrate the highs and navigate the lows of life.
It's designed to make you less selfish by having to negotiate with that teammate when you probably have super different perspectives and personalities.
It is the only place you will become fully known and loved regardless – and learn how to do the same for another person.
It's an amazingly refining experience – which means it may not always be easy, but it will definitely be worth it.
Keep that in mind as you ask yourself how to be a good wife – because the usually superficial answers to that question are not what will make or break you and your marriage.
Connect with your husband.
After all, that's who this all comes back to: your partner in life.
You're wondering how to be a better wife because something's up with your relationship with your husband.
Whether that's from feeling insecure about whether you're good enough or because you're frustrated with his actions, it calls for some intentional time with him.
If there's something you need from him, ask for it specifically.
Don't assume he can read your mind – even if what you need seems so. Freaking. Obvious.
It may not be to him.
That may be infuriating (I get it!), but if you ask, you're much more likely to receive.
Be diplomatic, be calm, but ask.
Continue to love on your husband – or make it more of a priority.
Put sweet notes in his lunch box.
Take on one of his chores without asking (and without expecting a thank you).
Instead of a casual "Bye, love you!" before he leaves for work, stop what you're doing and give him a big hug and kiss.
When you're watching TV together, put down your phone, snuggle, and be present with him.
Tell him how much he means to you and how proud you are to be married to him.
Keep doing those acts of love for him that he needs from you, even if it – for a moment – feels like you're going through the motions.
It won't feel that way forever.
If you put in the effort, though, there's a good chance your feelings will follow your actions – so he's not the only one who will benefit from your acts of love.
Even when you don't feel like it, your marriage is worth the effort.
Give it all to God.
This could have arguably gone at the beginning – but wherever it goes, there is just One being in the universe who knows and loves you perfectly – and that's your Father in Heaven.
God is the perfect confidant in your toughest situations.
God can and will give you the advice you need most, provided you pay attention to what He has to say.
He can and will start working on both your heart and that of your husband.
He can and will make a way where it feels like there's a brick wall.
Plus, God knows and loves your husband as perfectly as He loves you – so you don't have to feel like you're airing your dirty laundry when you tell Him everything on your mind vs. doing so with friends.
Kind of a win in my book! 😉
Throughout your journey of searching for how to be a good wife, and in everything else, pour out your soul to Him.
He can and will help you through this tough spot, because He knows what you struggle with and who you can become through overcoming that struggle – and he knows this about your husband, as well.
In short…. How can you be a good wife? Especially when you don't feel like it?
Just keep trying.
And please, take heart.
Because if you're here because you asked yourself that question, because you're dying to know how to be better in your marriage, I guarantee you're probably doing a lot better than you give yourself credit for.
So… go ahead. Give yourself a little more credit, then go and be the best wife (and woman) you can possibly be.
RELATED POSTS