This post is written by Rebecca of Proud Police Wife.
This post contains affiliate links. Read full disclosure here.
As a rookie police wife, I felt like I didn't have connections with other police wives yet, so I turned to books. Specifically, books that could relate to my current situation. Reading, especially while my husband was on shift helped me to deal with the situations we were facing. It also helped to paint a picture of what our life may look like later on down the road. It helped me feel connected to him, even when he was away.
For my husband, who wasn't naturally an avid reader, he started reading a lot more when it was something he was passionate about. He enjoyed reading books about his career. He gained a clearer insight to why things occurred, and he learned important statistics related to his job.
Fast forward almost 10 years and I am still reading books related to my police wife life, but now it's a little different. Now that we have children, finding books that relate to all of us is just as important.
We read books about first responders to our children so they can have a true idea of what their jobs are. It is important to us that they see first responders in a positive way, not the way media or cartoons paint them. Brightly colored visuals help to explain this topic a little easier, too.
I just started reading a new book this month and it made me want to compile a list for all of you with some of our families' favorite reads. There are so many out there that help the police officer, spouse & little ones, but I wanted to give you the 4-1-1 on the top 5 books for police families. These are all books we have read in my home and books I believe you and your family could benefit from, too!
5 Best Books for Police Families
For the Officer
If you ask the law enforcement officer in my home, this book is an absolute must.
Grossman explains what the mind and body go through when faced with life and death situations, and why those faced with them react differently than you might expect. Research shows what happens to the heart, lungs, nervous system, etc. when a person is going through battles or dangerous situations. The author also gives a quick but detailed look at the history of combat, how it has evolved and the way it is handled in everyday situations relating to law enforcement. Then Grossman explains how you can actually use all of this information and apply it to your life. How you can deal with stress and dangerous encounters in a healthier way for your body, preventing PTSD, and effective breathing techniques.
For military and law enforcement, this is a powerful and very insightful read. This book still sits on our shelf today and my husband is far from a rookie officer. Even veteran officers can benefit from the highly effective material that this book has to offer.
For the Police Wife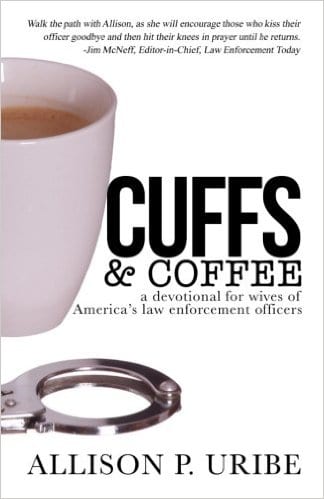 I just started reading this devotional this month. After hearing the rave reviews, I had to get my own copy.
It goes through 40 days of advice and encouragement that could help any police wife!
Each day begins with a prayer, followed by an explanation of the prayer and how it relates to your life as a police wife. A reflection journal page is also included with each day.
What I like is it gives me the opportunity each day to reflect on my police wife life, but it only takes me 5-10 minutes to complete. This is so doable with my busy life as a stay at home mom, blogger, and police wife. I can take this book with me in the car and while I am waiting for my kids to get out of school, I can quickly get my reading in and write my thoughts. The prayer given for each day is one that I think of throughout the day. It is usually just what I needed to read to get through the day and deal with the stresses present in my life.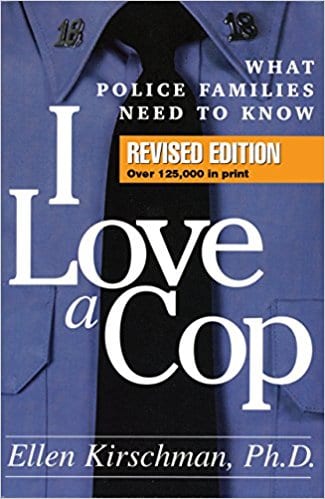 I Love a Cop is full of advice and stories from Kirschman, a psychologist who has worked with law enforcement and their families for over 30 years. She dives into every topic imaginable, from dealing with daily stressors to abuse in a relationship. This is the type of book, you can read all in one sitting, or read based on a situation you need advice in. I originally read this book when problems were occurring in my life. Normal stresses, shift changes, etc., I would grab this book and get quick advice on how to navigate my problems when they arose.
This was the first book I read as a police wife. It is well-written and easy to read. It really helped me cope with the new lifestyle we were living. Adjusting to this lifestyle is not easy, so if you are a new police wife or looking for emotional support related to police life, this is the book for you.
For the Kids
This is a rhyming story book that explains the duties of first responders throughout their day. The illustrations are fun and colorful and the text is short on each page.
When I asked my children to pick their favorite first responder story that we own, this was number one. They love learning about K-9 dogs and policemen and women that can also ride on horses to do their job. My children also enjoyed seeing both males and females represented as first responders. The text also prompted conversations about new vocabulary words, like 'beat', 'steady', & 'wail,' to name a few.
A Hero Lives in My Family: A Story for Kids of First Responders by Dr. Susan Hunt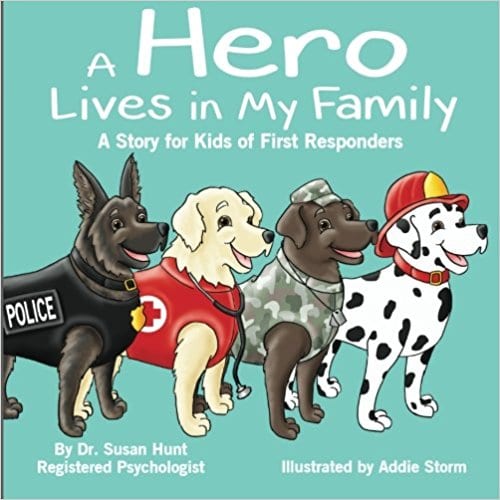 This book gives a true explanation of a hero, which includes police, nurses, military, and more. It explains what a Helping Hero is from a dog's perspective. It also discusses the feelings that heroes can feel when they do their job, but how they always feel better when they see their family at the end of the day.
My children enjoyed this picture book told from the heroes' perspective. It broadened their view of what a first responder is, more than just police and military, which they originally thought. My children also questioned the feelings in the book and if their daddy had the same. We were able to facilitate discussions about when they have similar feelings and compare to the story.
Remember, finding ways to feel supported in the first responder life is so important, even for the kiddos. 🙂 The children's books are also helpful within the classroom setting if you teach community helpers. I wish I had the two children's books when I was an elementary school teacher.
Being able to relate to others and make connections, even in a book, help to make this lifestyle more understanding and relatable. If you are like me, feel free to jot down notes in your books. Write how you are feeling, what it made you think of, what you are currently going through. You can also jot down scripture or prayer from the books to take with you and remember throughout the day.
Let us know how you like this list!
What are your favorite police-related books?