Looking for ideas for appreciation gifts for police officers for Law Enforcement Appreciation Week? Here are 7 great ones!
I'm not sure that it's ever been harder to be a police officer than it is right now.
I mean, yeah – it hasn't always been necessarily a high-profile job or anything. But at least it seems like it used to come with more respect.
Now? Well… not so much.
And knowing that, it makes me that much more passionate about doing things to help police officers know they're loved and appreciated. They just need it that much more, because the negative stuff makes a hard job that much harder.
Of course, those acts of appreciation also need to be within my budget. Because, first of all, we're on a limited budget (as, well, most people are, right?).
And second of all, you don't NEED to spend a lot to make someone feel appreciated. It's about the thought behind the gift, not the money you spend on it.
Really – some of the things on this list are basically free!
What really matters is letting them know they're thought of, and that's the goal of all these ideas.
7 Easy and Inexpensive Appreciation Gifts For Police Officers
Hand Warmers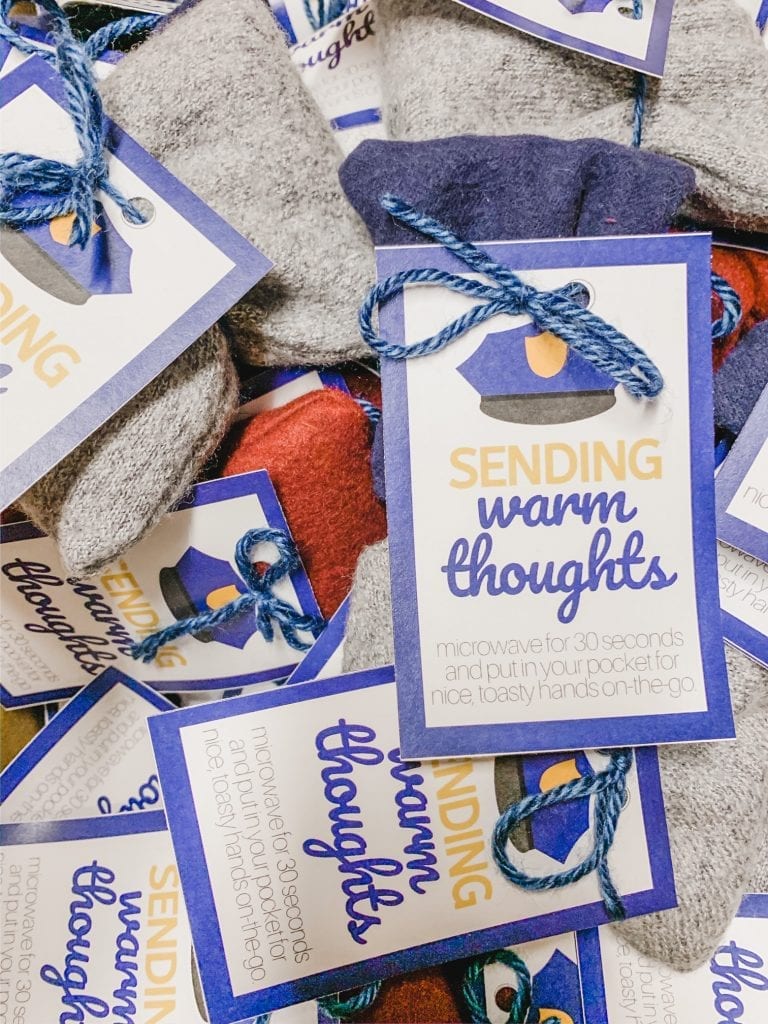 These easy-to-make hand warmers (plus free gift tags!) are perfect for helping keep your local police officers toasty warm.
The only downside is these are pretty weather-dependent, so they're better suited for Police Appreciation Day on January 9th versus Police Week in May.
But, of course, you don't have to wait for an official "day" to make these happen. You can whip them up whenever you feel like doing something randomly nice for your local law enforcement!
Find instructions and the free tags here: Easy DIY Microwave Hand Warmers for Police Appreciation Day
Lollipops
My son was a big fan of making these for Police Week a few years ago – probably because he got to benefit from the plethora of lollipops around the house. But who knows 🙂
These ones are super simple and extremely affordable – which means you can make TONS of these simple gifts for your local law enforcement. Even multiple departments if you wanted!
Plus, if you're a little more into a tongue-in-cheek kind of gift, this is most definitely up your alley.
Find the free printables here: Free Printable Lollipop Wraps for Police Appreciation Week
If you'd like to do something as simple as possible but still cute for your local department, this is a great idea.
You can print the free tag featured in the post and attach it to any gift bag of any size, and gift whatever you'd like.
I personally used Hershey kisses, but you can use whatever you'd like. I would recommend using something individually wrapped, just so the officers don't have to be quite so concerned about tampering.
Side note: I'd highly recommend against homemade treats for this reason, unless you're personally affiliated with the department through your husband or another close family member or friend. I wouldn't want all your hard work to go to waste!
Find the free printable and instructions here: Free Printable Treat Bags for Police Appreciation Week
Thin Blue Line Wristbands
These wristbands are a smidge more expensive than some of the other ideas of appreciation gifts for police officers, but also take a lot less time to put together – so it might be kind of worth it!
The benefit here is that they fit anyone, plus they aren't consumable – so no concerns about them being tampered with.
Of course, if you wanted to make them extra special, you could print off the bag label I talked about above and put them in a gift bag, but that's totally up to you.
Find them here: Thin Blue Line Wristbands, 20 pack
Police-Themed Bookmarks
These super cute bookmarks make super simple and extremely economical gifts for your local law enforcement officers, especially if you're particularly "bookish". After all, it's fun to share your hobbies with those you appreciate, right?
These are available in the Love and Blues Resource Library (scroll down to sign up)- they're free for personal use. You can print off a ton of these either at home or through an office supply store, cut them, and gift them in a gift bag (with or without gift tag, of course).
That being said, you can find lots of other bookmarks to print from Pinterest – or even make your own!
If you really want to go above and beyond, you could also gift your local department a Little Free Library as a nice community outreach effort. If you do this, though, make sure you actually talk with the department before implementing this kind of permanent structure (even if it's little, it may not be well-received as a surprise!)
Send a card.
A simple card is a wonderful way to say thank you from the heart.
Some ideas to make it more personal:
Have your kids write/draw one, too. There's not much cuter than kids art (well…. usually – haha). Plus, it's a good opportunity to talk with your kids about law enforcement and the difference they make in society.
Include a family photo. Sometimes it's nice to put a face to the name!
Offer to help. You can always include your contact information and offer to help with anything they might need volunteers for!
This could also be combined with any of the other ideas on this list.
Make a donation in their honor.
There are a lot of law enforcement-positive organizations you can donate money to. That will ensure that, no matter how much or how little you want to spend on appreciation gifts for police officers, it goes to something super beneficial.
Some ideas of places to donate:
Brady's K9 Fund: This charity helps provide bulletproof vests for police dogs. Brady, a 4th grader, noticed not all dogs wore vests. When finding out they were cost-prohibitive for many departments, he decided he wanted to help raise funds for them. So cool!
C.O.P.S.: This foundation helps survivors and coworkers of line of duty deaths.
National Law Enforcement Officer Memorial Fund: This fund helps honor fallen officers.
Feel free to combine this with a simple card to let them know you made a donation in their honor. Or be anonymous! That decision is totally up to you.
I hope you found something on this list that gives you a good idea of what to do for your local department!
Remember, the main thing is to let them know you're thinking about them: that alone can do wonders for morale.
If you'd like to share what you end up doing or if you have any other ideas to share, feel free to comment below or email leah@loveandbluesblog.com! I would love to hear from you 🙂
RELATED POSTS